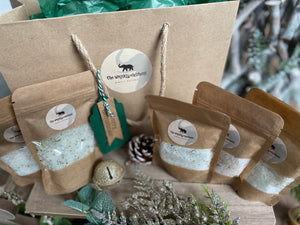 Christmas Bath Salt and Foot Soak Collection
Regular price £17.99 Sale
Treat yourself to a luxury spa experience this Christmas with our Christmas Bath Salt and Foot Soak Collection! Our 100% natural, chemical-free mixture of salts enriched with minerals, botanicals and essential oils will help you relax and rejuvenate in the comfort of your own home. Get creative with your at-home spa day with the 3 bath salts and 2 foot soaks presented  in a Christmas Kraft bag with Christmas tag. Indulge and enjoy!
This collection is a perfect way to test out the whole range. Enter a delightful world of relaxation with one of each scent. 
Each set includes 3 x 100g bath salts and 2 x 70g foot soaks 
Bath Salts 
Oh so Sleepy!- scented with Lavender essential oil this will certainly help to relax, fight stress and promote sleep. 

Oh so Citrusy!- scented with an intense Orange essential oil this will certainly awaken your mind and uplift your mood. 
Oh so Rosy! - a wonderful floral aroma that will enhance your mood and ease anxiety. 
Foot Soak
Energise & Revive Mint Foot Soak- scented with Mint essential oil, this will get those feet energised and revived after a long day.
Relax & Refresh Lavender Foot Soak - scented with Lavender essential oil this soak will instantly help you relax and soothe and refresh those feet. 
Each of these salts has a small amount of botanicals mixed throughout. 
Please click on each link to see individual pages for a full list of ingredients. 
How to use: 
Sprinkle the desired amount into a bath with running water. Agitate the water to disperse the salts, botanicals and essential oils. Climb in, sit back, breathe and relax.
 WARNINGS
For external use only. Not to be used around the eyes, broken skin, mucous membrane. If irritation occurs then discontinue use. Please seek medical advice before using if you are pregnant or have any medical condition. I would also advise removing the botanicals as soon as you have finished and rinsing the bath to prevent any staining.