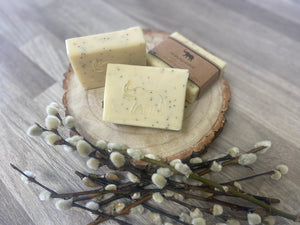 Gardeners Soap
 Our Limited edition Gardeners soap is a great soap to wash your hands with after doing all those Autumnal gardening chores. 
A refreshing blend of Bergamot, Tea Tree, Sweet Orange and May Chang, coupled with poppy seeds, make this a perfect soap for keeping by the sink to wash away that gardening dirt. 
We all know this time of year it's great to get out and sort the weeds and flowers in the garden. We all also know how ground in the dirt can get on our hands. This is where these little poppy seeds can help exfoliate your hands and remove ground in dirt and the Tea Tree oil will also help as an antiseptic for any small cuts and grazes. It will also help any car mechanics get the oil and grease off their hands. In fact anyone can use this soap as an exfoliator. 
Full size 125g e 
Ingredients
Sodium Cocoate, Sodium Oliviate, Sodium Shea Butterate, Glycerine, Aqua, Sodium Castorate, essential oil blend, * Limonene, *Citral, *Linalool * Citronellol * Geraniol, Papaver Somniferum (Poppy) Seed * Naturally occurring in essential oils
Soap Care
All of our soaps have been lovingly handcrafted in small batches and have no chemical preservatives, therefore they need a bit of care and attention in order to prolong their lives. 
When you are not using them it is really important to keep them out of water on a well drained surface so that it completely dries between uses. Use a soap dish (
wooden dishes with open slats are perfect
) as this will help keep it fresh and fragrant for as long as possible.
Important Information
For External use only. Avoid contact with eyes and if irritation occurs then discontinue use. If you have any concerns about using products with essential oils (such as medical conditions or pregnancy) then please consult a qualified aromatherapist or doctor. These are not suitable for children under 3.