WE ARE TAKING A BREAK
Please note we are on holiday from 16th September until 29th September and although the website will remain open unfortunately no orders will be despatched.
Last date for orders to be despatched is Friday 15th September and then any orders received after this date will be despatched on Monday 2nd October.
I am sorry for any inconvenience
Free 2nd Class Postage
Spend £30* or more and receive free Royal Mail 2nd Class postage
*Excludes Subscribe and Save and Subscription boxes
Welcome to The Wrinkly Elephant Company Ltd
HAVE YOU "HERD" ABOUT OUR NATURAL HANDCRAFTED SOAP?
Our natural handmade soap bars are just the beginning of our natural bath and body products.

Through our knowledge and experience, The Wrinkly Elephant Company brings you a range of natural bath and body products that take care of your skin, whether it be for your daily routine or for that bit of an extra pamper. With the perfect balance of natural ingredients, our handmade range includes natural soap bars, clay face masks, shower steamers, body wash foamers, lip care, bath salts and foot soaks.

We handmake each of our products so you may notice some variations in size, shape, texture or scent. However, all of our products are made with complete care and attention, pouring our passion across our bath and body care range.

The Elephant is a symbol of longevity and wisdom in many cultures across the world. With our symbol of the Elephant to guide us in thinking about our impact on the planet, all of our products are plastic free, palm oil free and not tested on animals.

We are proud members of the Guild of Soap and Toiletry makers and proud to be based in Worcestershire, UK.
Let our customer's speak for themselves
Our Approach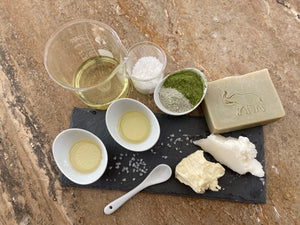 Natural and handmade: our ingredients matter
High quality, all natural ingredients are the foundation of our bath and body products. Our natural handmade soap bars are made from the finest ingredients which include shea butter, coconut oil, olive oil and castor oil. Your skin will be left feeling soft, nourished, and moisturised. We ensure that all our packaging, as much as possible, is plastic free and recyclable.   
Please be aware that our products may be produced in an environment that may contain nuts.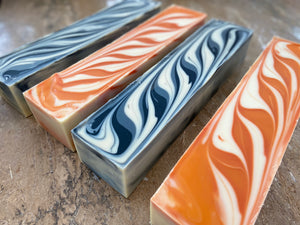 You'll be smitten and just want more!
From our premises in Bromsgrove, Worcestershire, UK, all natural handmade soap bars are made from scratch. Hours of research with years to perfect our recipe has given us the confidence to say that we know you will love The Wrinkly Elephant natural bath and body range.  
Beside the 'oh so good' natural ingredients, we use essential oils to awaken the senses. We are confident you will notice the difference and keep coming back for more!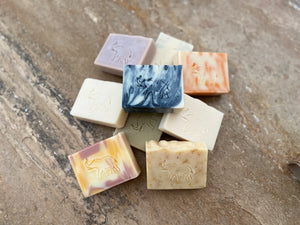 It's all in the detail
We are proud to use the time honoured traditional cold process soap making method. Each soap is handcrafted in small batches and takes about six weeks to fully cure. This ensures that your bar of soap hardens to make it long lasting and provide true satisfaction for each of our customers.  
We have a well refined system to ensure high quality and are proud to share our products with you to find solutions to your skin care.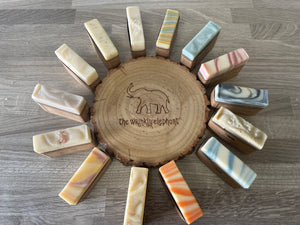 Strong Skin
Just as our Wrinkly Elephant has wonderfully tough skin, our skin is strong. Built to protect us against the elements, our skin is the largest organ of our bodies. No matter how strong our skin is, there are still many ways we can approach skin care.  
Selecting products, such as natural handmade soap bars, are a simple and effective way to give your skin nourishment through natural ingredients.  
The Wrinkly Elephant bath and body products take care of every inch of your skin. Our products are specifically designed to nourish and care for hands, face, feet or body. Selecting the products you need to focus on caring for yourself from top to toe.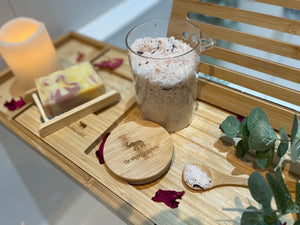 Never forget how wonderful you are
Day to day, it is easy to be critical of our skin. Our skin is a map to our lives, and we can see it in our skin health when we are tired, stressed or not attending to our diets.  
Life is busy and can become a barrier but once you have connected with products that you know will deliver with quality every time, you can rely on us to be there to support your skin care routines.  
We know how wonderful your skin is and we know how to make natural homemade bath and body products that will bring out the wonderfulness within your skin.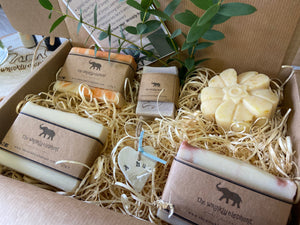 Trunk full of goodness
Our natural handmade soap bars are just the beginning of the product range we create at The Wrinkly Elephant.  
Our website brings you a whole trunk full of options to support you to take good care of your skin.  
The value of good skin care is that it provides a foundation for your mental well being too. Finding connection through natural products and a moment to stop as you look after yourself.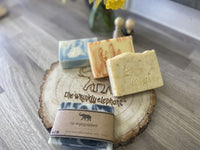 NATURAL HANDMADE SOAP BARS AND BATH PRODUCTS
Elephants are amazing at taking care of each other. Protecting their skin from the sun, using their trunks to hug and support each other and even using their feet to listen through vibrations in the ground. We know that our products help our customers to feel, and see, a difference in their skin health.  
Our simply natural bath and body products can't help with the pressures of everyday life, but they are a good start to self care.  We are proud to create natural homemade products and are committed to making a difference to every one of our customers.