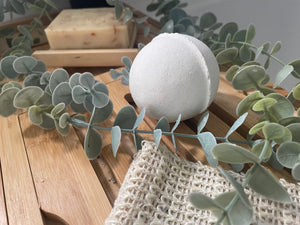 Peppermint & Eucalyptus Bath Bomb
Experience the ultimate luxurious bath time with this delightful Peppermint & Eucalyptus Bath Bomb. Crafted with natural ingredients, including Kaoilin clay and green clay, this invigorating bath bomb is designed to soothe, soften, and brighten the skin, while providing a naturally exfoliating experience that will leave you feeling refreshed and rejuvenated.
Relieve muscle tension and boost alertness with our Peppermint & Eucalyptus Bath Bomb! The powerful peppermint oil provides a fresh, minty scent while its menthol helps ease headaches and aches. The eucalyptus oil is great for clearing congestion and colds. Get ready for a stimulating and refreshing bath!

Ingredients: Sodium Bicarbonate, Citric Acid, Zea Mays Starch, Kaolin, Mentha Piperita Oil, Eucalyptus Globulus Leaf Oil, Limonene*, *Allergens Naturally present in essential oils.
 Warnings: For external use only. Avoid direct eye contact. Not for application to the mucous membrane or on broken skin. If irritation occurs discontinue use. Produced in an area that may contain nuts
Directions: Remove product from packaging and gently place in the water. Rinse bath tub after use to remove any residue product.
Each bath bomb is freshly handmade and presented in eco-friendly biodegradable compostable bags (Excluding our ingredients labels). Please dispose of packaging responsibly.