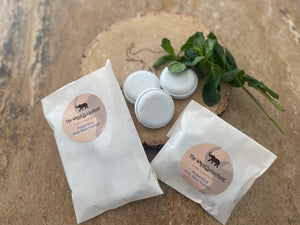 Peppermint Body Wash Foamers
 Peppermint Body Wash Foamer
This is a new kind of body wash cleanser ideal for use in the shower. They fizz and foam in the water and create a luxurious lather which will leave your skin feeling cleansed and moisturised. They contain Apricot Kernel oil which is a light oil that penetrates the top of layer of skin and has been found to help dry itchy skin. Scented lightly with essential oils, so you can enjoy a wonderful aroma as you wash.

Peppermint, like Lavender, is one of the most versatile essential oils. It's scent is described as being fresh, sharp and comparable to menthol so it's a good essential oil to use if you need to ease nasal congestion and encourage easy breathing. On the skin it has a cooling but warming sensation that can relieve any redness and inflammation. Using this in the shower in the morning will certainly awaken those senses and put a spring in your step. 
Sold in packs of 2 or 4 
How to use
Hold briefly under the water to activate the foam. Lather in your hands and apply the silky smooth bubbles to your skin. Alternatively, once you have activated the foam you can rub the foamer over your skin as it will also act as a gentle exfoliator. 
Warnings
May make shower/bath slippery. Not suitable for use on the face or hair. If product enters the eyes, rinse well with water. If irritation occurs discontinue use. Keep out of reach from children. Rinse shower/bath after use to remove any residue.

These are not to be confused with Shower Steamers which do not come into contact with the skin as they have a much higher concentration of Essential oils and are for aromatherapy benefits only. 
Ingredients
Sodium Bicarbonate, Citric acid, Zea Mays Starch, Algin, Potassium Bitartrate, Sodium Cocoyl Isethionate, Cocamidopropyl Betaine, Aqua, Prunus Armeniaca (Apricot) Kernel Oil, Mentha Piperita Oil, Limonene*, Linalool* Mica CI77007, CI77891
*Allergens naturally occurring in essential oils